All-Star Events
All-Star Voting
Players
Top Four Captain Candidates for the 2019 NBA All-Star Game
Merry Christmas and happy holidays, readers! 'Tis the season of gifting buckets to helpless defenders, filaying fancy layups like holiday hams, and of course, giving your favorite ballers the chance to shine on the big stage by voting them into the All-Star game. On December 17th, the NBA released All-Star voting ballots and with them, sparked debate between fans as to who would be voted captain of each all-star team. The inauguration process for All-Star game captains is fairly straightforward – the top two vote-getters from each conference are subsequently named captains for an all-star team, with last year's being Lebron James and Stephen Curry. For more information on how to see the mid-February festivities, click here. The captain is imperative to the performance of his team, as captains of each squad are granted the ability to draft their own team. Popularity and talent are crucial in getting an ample enough number of votes to be your squad's leading athlete, but there's a handful of players who have created debatable cases for themselves to snag the necessary votes to be their team's skipper. Check out the top four candidates for the job, two from each conference, and try to decide who you'd put at the helms of the two all-star groups.
Lebron James (West), Los Angeles Lakers
Did you expect anybody else? In season sixteen, LBJ has had yet another MVP caliber year and continues to solidify his name in the argument of greatest basketball player of all time. In his age-33 season (he'll be 34 on December 30th), Lebron has compiled a beefy stat line. He's averaging over 27 points per game and flirts with triple doubles (in typical Lebron fashion), tacking on nine rebounds and seven assists per matchup. Next to that, he's been able to improve his already stellar efficiency, with his best turnover percentage since 2013, and highest points per 36 minutes rate of his career. To package stats with popularity, James was just named Male Athlete of the Year for 2018 by the Associated Press for the third time. If there was ever a bet to make, this would be the one – Lebron WILL be an all-star team captain this season.
For the 3rd time in his career, @KingJames was named the AP Male Athlete of the Year. pic.twitter.com/eEREPVUS3h

— SportsCenter (@SportsCenter) December 27, 2018
James Harden (West), Houston Rockets
Basketball was never supposed to be a particularly scary activity to watch, but if there's one player that will instill fright into your soul, it's Houston's James Harden. Ladies and gentlemen, Fear The Beard. The Rockets shooting god – I mean, guard – has spent the season attempting to heimlich a Houston team in the process of choking the year away. Harden has averaged a whopping 32.3 points per game, leading the league by a wide margin, while still somehow managing over eight assists per contest and chipping in almost six rebounds. He's shooting a career best percentage from downtown, and, surprise! He's THIRD in the league in steals! Don't let him fool you – James Harden is defibrillating a surprisingly lifeless Rockets squad by contributing serious numbers on both ends of the court, and his greatness may well be recognized if he can somehow muster more All-Star votes than Lebron. If he can't, never fear – these numbers should garner him serious consideration for a far more – maybe even most – valuable award at the end of the season.
https://twitter.com/AdiBrescic/status/1077692460438941697
 Giannis Antetokounmpo (East), Milwaukee Bucks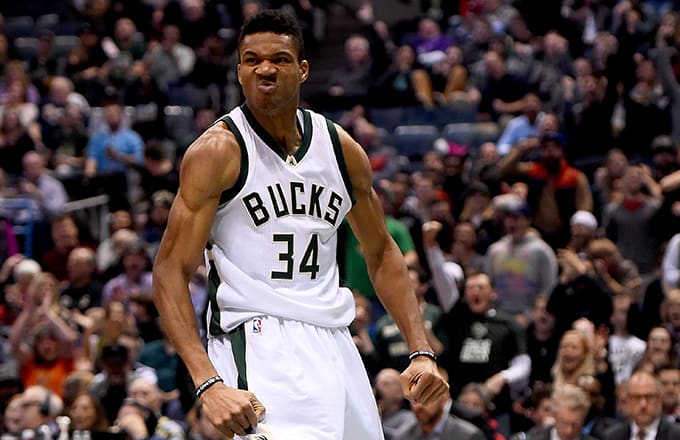 During Lebron's career as an NBA player, it's been long debated whether an uber-talented, athletic freak like him would ever emerge in the league again. Enter, Giannis Antetokounmpo. The 6-11 point-forward out of Greece has taken the league by storm over the past three seasons, and has cemented his name as one of the premiere talents in the game at just 24 years old. He leads the league in Player Impact Estimate, a self-explanatory statistic, and is tied (as of 12/27/2018) with Rudy Gobert and Clint Capela for most dunks in the league. Keep in mind, these are two of the most dominant centers in the league –  Giannis is often utilized as a ball-handler. He's eyeing a third straight season in the playoffs, and he's led the Bucks to the same number of playoff wins over the past two seasons as they mustered over the decade prior. The Greek Freak is a fan favorite for his emotional play and outspoken nature (We're looking at you, Mario Hezonja), and he should be a front-runner for All-Star captain honors so long as he continues his stellar play over the next few weeks.
From this day on, Giannis Antetokounmpo in New York will be known as the 2018 Xmas Grinch! The Greek Freak shows in his Xmas debut why he's an mvp candidate: 30 pts, 14 reb. Just unstoppable #FearTheDeer #NBApic.twitter.com/rfffnbiWCM

— Davide Chinellato (@dchinellato) December 25, 2018
Joel Embiid (East), Philadelphia 76ers
The epitome of playing to the crowd, Philly third-year Joel Embiid has had his fair-share of all-star memories, including an amusing Twitter incident with a certain pop-star, but his hooping ability certainly matches his hilarious ostentation. Embiid currently ranks 7th in the league in scoring with 26.6 points per contest, and has continuously put his strength and rebounding on display by getting boards at a 13.2 per game clip, good for third in the association. Embiid has been a cornerstone to an exciting young 76ers group and has arguably the brightest future of any player in their youthful core. "The Process" has been a fruitful one for Philadelphia, and by extending his contract for five more seasons in 2017, they've given themselves a perennial All-Star to build around for years to come. The East's all-star captain should come down to "The Process," or the "Greek Freak."
Joel Embiid with 30 and 11 through 3 pic.twitter.com/SXc9jJTVIG

— The Crossover (@TheCrossover) December 26, 2018
If there was an antonym to this year's all-star captain considerations, that word would be unanimous. While this quad of sensational players have separated themselves from the rest of the league in their basketball playing abilities, it's difficult to give one an edge over another due to each athlete's immense talent and stand-up persona. While Lebron will likely end up a landslide winner in total votes, it's difficult to declare him head and shoulders better than players like James Harden among others. In the East, Antetokounmpo and Embiid are neck and neck in their phenomenal talents and highly enjoyable public image. In the coming weeks, the all-star race will be an exciting watch, with a showcase of unrivaled basketball talent at its culmination.
The stars will shine bright in Charlotte! Send your favorite NBA stars to the 2019 NBA All-Star Game by casting your votes now at https://t.co/kzLjXV7Xv6 pic.twitter.com/joiSt9YhC9

— NBA Philippines (@NBA_Philippines) December 27, 2018