21 Fun Facts About NBA All-Star Giannis Antetokounmpo
Milwaukee Bucks star Giannis Antetokounmpo is heading into his fourth straight NBA All-Star appearance this year. His rise to stardom has led to plenty of news coverage of his humble roots in Greece and his exceptional skills on the court.
Besides being one of the top 25 players in the NBA, there's probably a lot you don't know about Giannis.
Even the most avid NBA fans can learn more about the Greek Freak, including these fun facts listed below. 
1. Giannis played two seasons in Greece before jumping to the NBA
Most NBA players enter the league through the college basketball route. Antetokounmpo was born, raised, and learned his basketball skills in Greece. His professional basketball career started with Athenian club Filathlitikos in 2011. Antetokounmpo appeared for the team when it was in Greece's third division before it gained promotion to the Greek A2 League. During the 2012-2013 season, he averaged 12.2 points and 4.9 rebounds per game across 26 games. 
2. His professional career was heading toward Spain before the NBA
Greek and NBA teams were not the only ones who noticed Antetokounmpo's potential. In December 2012, Filathlitikos agreed to terms with Spanish team Basket Zaragoza on a transfer that would have included a four-year contract for Antetokounmpo. Basket Zaragoza was in its third season in Spain's first division at the time, finishing third in the league in the 2012-2013 season. Antetokounmpo's decision to enter the NBA Draft in 2013 ended a potential stay in Spain. 
3. Giannis' first high-stakes game ended in a tough loss
Antetokounmpo was part of the Filathlitikos effort to reach Greece's top division during the 2012-2013 season. The final game of the season dictated whether Filathlitikos or Nea Kifisia would gain promotion. In a two-overtime thriller, Nea Kifisia bested Filathlitikos 89-81. Antetokounmpo only scored four points in the game as more veteran players figured prominently in the team's rotation. 
4. His oldest brother made his name on the soccer pitch
Francis Adetokounbo is the oldest brother of Giannis Antetokounmpo and the only son born in Nigeria instead of Greece. Adetokounbo still uses the Nigerian form of the family name because he remained in his home country as his parents left for Greece. He used his athletic skills to forge a professional career in soccer, including stints with Greek clubs AE Sparti and Aittitos Spaton. 
5. Draft experts had mixed opinions about the Bucks picking Antetokounmpo
Antetokounmpo emerged from humble roots to make his name in the Greek basketball scene. To break into the NBA, he had to overcome the lingering barriers to pro scouting around the world. Some NBA team scouts saw Antetokounmpo as a 6'9" player with enough raw potential to become a potential All-Star. There were skeptics who didn't see Giannis's above-average performances against lesser competition as a demonstration of the skills needed to compete in the NBA.
Post-draft grades for the Bucks 15th overall pick in 2013 hedged between the player's immense upside and the risks of drafting an unknown quantity. The grades for the 2013 Bucks draft class ranged from A- to C, showing a lack of consensus about Antetokounmpo. 
6. The name pronunciation game for Giannis kicked into high gear with the draft
Then-NBA Commissioner David Stern might have swished the pronunciation, but how to spell and pronounce Giannis' last name was a challenge to basketball experts. His family name is Adetokounbo, but he was written as Antetokounmpo on his Greek passport when he received citizenship in 2013. Pronunciation contests for the young player's last name ranged from Milwaukee sports media to TNT's Inside the NBA crew with limited success. Antetokounmpo made sure everyone could pronounce his name as he developed into an NBA superstar. 
7. Giannis told teams that he wanted to play right away rather than stay in Europe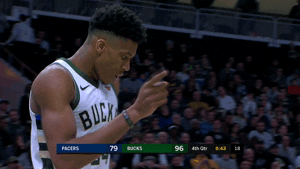 NBA teams have used the "draft-and-stash" method for international players in recent drafts. This method allows a team to obtain a promising player's rights while they develop for a few years in another league. Antetokounmpo squashed the hopes of NBA teams who saw him as a "draft-and-stash" candidate in 2013.
The player's representative told potential suitors that Antetokounmpo was not interested in staying in Europe if selected in the draft. This was a bold move by the young player, give that his draft value drew on promise rather than current performance. 
8. Giannis outlasted the first overall pick in his draft class
Antetokounmpo benefitted from going to a Bucks team in transition that could afford to spend a mid-1st round pick on a high-upside player. The Greek Freak has grown into an NBA MVP in the six years since the 2013 NBA Draft. He has also outlasted No. 1 overall pick Anthony Bennett, who was selected by the Cleveland Cavaliers. Bennett lasted one season with the Cavaliers before bouncing to the Minnesota Timberwolves, the Toronto Raptors, the Brooklyn Nets, and the G-League. 
9. Giannis hitched a ride to the arena after sending money back to his family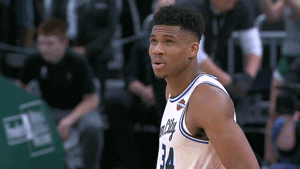 In his rookie season, Antetokounmpo was adjusting to life in the NBA and the United States on a bad Bucks team. Giannis endeared himself to the Milwaukee community with his humility and approachability. In one case, a Milwaukee couple saw the Greek Freak running to the arena prior to a game. Antetokounmpo wired money to his family in Greece and did not leave himself enough money for cab fare. The couple brought him to the Bradley Center, furthering the city's lore about the promising player. 
10. He also caught rides with second-rounder Nate Wolters early in his career
Wolters was a second-round pick traded to the Bucks in the same draft that they selected Antetokounmpo. The rookie guard became friends with the future superstar, helping acclimate Giannis to American life. Wolters and Antetokounmpo drove in the second-rounder's used Mazda to practices, public appearances, and occasional visits to restaurants like Applebee's.  
11. The Greek Freak trademarked his nickname as his stardom grew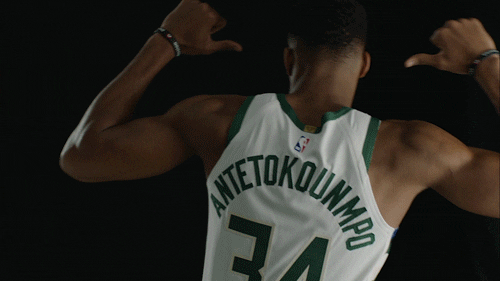 NBA fans have known about Antetokounmpo since the 2013 NBA Draft, but his popularity among casual observers is more recent. The nickname has grown beyond basketball to reach pop culture and fashion. In 2014, Antetokounmpo filed a trademark application for the Greek Freak nickname in relation to future merchandise.
The U.S. Patent and Trademark Office approved the application in February 2018, just a few days prior to his second NBA All-Star appearance. 
12. The Bucks prospect grew as his game got better
Antetokounmpo entered the NBA with a recorded height of 6'9" with a wingspan of 7'3". The Bucks drafted Giannis and later Thon Maker due to their potential to grow. The Greek Freak fulfilled this potential by growing two inches in height in his first season. He also packed on muscle to his lanky frame with a 52-pound gain from 2013 to 2019. 
13. Giannis served in the Greek Army
Greek law requires every male adult citizen up to 45 years old to serve at least nine months in the Hellenic Army. Giannis and Thanasis Antetokounmpo completed their mandatory service at a military training center in the summer of 2016. The brothers were allowed to complete a reduced term as Greek citizens who permanently live abroad. 
14. His first triple-double came against the Los Angeles Lakers
Antetokounmpo has become an all-around player who can score, pass, rebound, and defend against the best players in the NBA. In his first two seasons, though, he did not record a single triple-double as he honed his skills. On February 22, 2016, Giannis broke his triple-double seal against a struggling Lakers team. Antetokounmpo put up 27 points, 12 rebounds, and 10 assists and would record 16 more triple-doubles by the end of 2019. 
15. Giannis is the only NBA player to win the Most Improved Player and MVP awards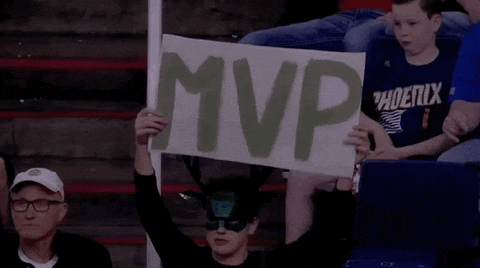 The NBA has awarded a regular-season Most Valuable Player Award since 1956 and a Most Improved Player Award since 1986. Antetokounmpo's breakout 2016-2017 season led to a Most Improved Player nod. He later picked up the MVP award following a 2018-2019 season that ended with the Bucks one game from the NBA Finals. 
16. His MVP placed him among all-time greats who won MVPs early in their careers
Antetokounmpo won his MVP at age 24, making him one of five players to win the award at age 24 or younger since 1976. He joined Derrick Rose (22), LeBron James (24), Michael Jordan (24), and Moses Malone (23) in hoisting the MVP before reaching 25 years old in the period following the NBA-ABA merger. 
17. Giannis continues a tradition of All-Star success for Bucks star players
Milwaukee might be the smallest market with an NBA team, but it has a strong lineage of NBA All-Star players. Seven Bucks players have appeared in the game three times or more. Giannis is one of three Bucks players to appear in at least four consecutive All-Star games.
He joins the ranks of Pro Basketball Hall of Famers Kareem Abdul-Jabbar (six straight appearances) and Sidney Moncrief (five straight appearances) as Bucks who have hit All-Star hot streaks. 
18. The Antetokounmpo family has shared space with Giannis since his arrival in Milwaukee
The Bucks encouraged Antetokounmpo's development by bringing his family over from Greece in early 2014. He has lived with his partner, parents, and brothers in apartments and condos throughout the Milwaukee metro area since arriving in the United States. In 2018, Giannis took the next step by buying a house in nearby River Hills from fellow Bucks player Mirza Teletovic for $1.8 million. 
19. Giannis paved the way for his brothers to play in the NBA
As of the 2020 NBA All-Star Game, three Antetokounmpos are plying their trade in the NBA. Older brother Thanasis was drafted by the New York Knicks in the 2014 NBA Draft and joined the Bucks before the 2019-2020 season.
Thanasis has bounced from the NBA to teams in Andorra and Greece during his career. Younger brother Kostas was drafted by the Philadelphia 76ers in 2018 and currently plays for the Los Angeles Lakers. Kostas played at Dominican High School in Milwaukee before playing college basketball at Dayton. 
20. A fourth Antetokounmpo NBA player could be on the way soon
Youngest Antetokounmpo brother Alex shows a lot of the same skills as Giannis. Alex is a 6'7", 190-pound senior at Dominican High School who received offers from Ohio University and DePaul University. He lives with Giannis and emulates his older brother by wearing the No. 34 jersey. In 2018-2019, Alex averaged 19.2 points and 8.2 rebounds for one of the area's best high school teams. 
21. The Greek Freak connects to his roots in ads with his brothers
Giannis has grown into a commercial star thanks to ad campaigns for Metro by T-Mobile, JBL, and BMO Harris Bank. American viewers might not know about his series of ads for Greek milk brand Milko. In an animated ad, a bottle of Milko is passed around the world to Giannis from his brothers so he can be prepared for his next game.
Another ad features Giannis and Kostas push each other from a young age to reach their dream of basketball stardom.